Реклама
---
Главная страница » Новости спорта » Хоккей » Nabokov a showstopper
Nabokov a showstopper
17.05.2008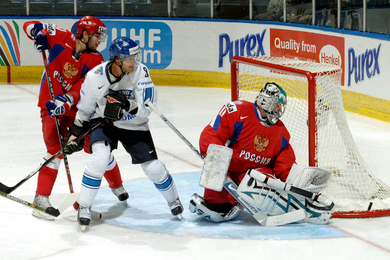 Goalkeeper Evgeni Nabokov and playing as a team are key to Russian success. Photo: IIHF/HHoF/Matthew Manor
Adding Evgeni Nabokov was the last piece of the Russian puzzle. Now he wants to stop the Canadians.
QUEBEC CITY – Coach Vyacheslav Bykov had a visit from Father Frost, the Russian equivalent of Santa Claus, early this year. Usually he comes around in his blue coat on New Year's Day, but for Bykov, the big present came on May 5, when it was confirmed that Evgeni Nabokov would join the Russian World Championship team.
"When I read [Nabokov was joining Team Russia], I was very disappointed because I knew that could be the difference for them," said Team Finland's coach Doug Shedden after the semifinal between Russia and Finland.
"Their goaltending is head and shoulders better than it was before. Them getting Nabokov was the difference to me, he really put them over the top," he said.
Nabokov, one of the three candidates for Vezina Trophy as the NHL's best goalkeeper this year, played his first World Championship game in a qualification round game against Sweden, with Henrik Lundqvist, another Vezina candidate tending the opposite net. Nabokov won the goalkeepers' battle as he made 28 saves while Russian beat Sweden 3-2 with Alexander Ovechkin netting the winning goal with just six seconds remaining.
"Ovechkin, [Sergei] Fedorov, and [Alexander] Semin are our leaders, and when other lines see them play well, it's like a snowball that gets rolling and gets the others to play better as well," Nabokov said after the game against Finland.
"Nabby" has played four games in the tournament, all wins, with a goals against average of 1.25. In the last two contests, his GAA is, ahem, zero.
"It's why I'm there. To make saves. Sometimes they score a goal, sometimes they don't," he said philosophically after his first shutout, in the quarterfinal game against Switzerland.
"You just try to make yourself big and play the gaps. Sometimes you have to be lucky, too," he said.
Sure, sometimes you have to be lucky, but Nabokov has put in the hours to earn whatever luck he may have on the ice. The 32-year-old Kamenogorsk, Kazakhstan, native finished his eighth season in the NHL after being drafted by the San Jose Sharks on the ninth round in the NHL draft in 1994. After three years in the farm team, he was called up to San Jose and has stayed there since.
He's averaged 60 games a season since 2000, and this season, he played 77 of the Sharks 82 regular season games and all 13 games in the post-season. Along the way, he made 2,228 saves. Another 35 in tomorrow's gold medal game against Canada, in Nabokov's 95th competitive game this season, and Russia is very close to capturing its first gold since 1993 when Nabokov was still in Kazakhstan.
He appears calm as he meets the press, just as calm as on the ice. Whether he feels the pressure of being touted as the player who will carry Russia to the gold or not is impossible to tell. However, the stats and the big grin on his face suggest he can handle it.
"Pressure?" he asks. "We're used to pressure, that's what we're playing for. Everybody feels pressure," he says.
He doesn't even think that his status in the dressing room is any different from the others'.
"The goalie is always special because goalies have to make the saves, but I think everybody has his responsibility, forward, defencemen, everybody. I don't think I'm different from anybody else on the team," he says.
Now that Nabokov is in town, Russia has a proven goaltender who's used to playing a lot, under pressure, and on a high level at that. The perception of talented and skilled Russian individuals not playing as a team is still something that many think may be the team's fall.
While this year's tournament is Nabokov's first World Championship, he did represent Russia in the 2006 Olymipcs when they lost the semifinal against Finland, 4-0.
"I don't think we played badly [as a team] in the Olympics. It just happened that they shut us down," he says and shrugs his shoulders.
"This is my first World Championship so I can't really say what the situation has been in previous tournaments. Any time we come to a tournament, any time professional athletes play sports, we want to win. That's what we're here for. Obviously, we have the talent to do that here, but so has everybody else," he says.
But right now, only Canada can stop them.
If Nabokov doesn't stop them first.
RISTO PAKARINEN


Календарь игр Чемпионата мира по хоккею 2008
Все материалы раздела «Хоккей»
---
Последние новости
14.07.2020

18.03.2020

11.02.2020

21.01.2020

19.11.2019
---